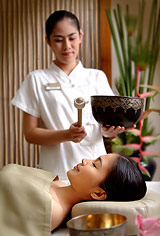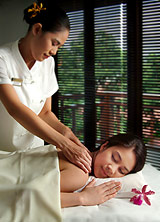 SPA & WELLNESS IN THAILAND
Thailand has more spas than any other country in Asia Pacific, and has long been seen by many as the focal point of the spa industry in the region.
Thai Massage, the basis for much of the Thai spa industry is not exclusive to Thai spas. From simple massage shops on many street corners, to elaborate traditional massage centers', there is must variety to be found.
However do not expect the same quality of service in ordinary massage shops as in professional spas. This is not to say that the quality of massage shops is bad, as the staff might perhaps well have undergone a basic training at Wat Po (often referred to as the home of Thai Massage); but in a spa, it will come with a welcome cold towel, cup of herbal tea, soothing music, soft linens, relaxing ambience, quality interiors, and professional therapists that are highly trained, including many that can converse in English if not other languages.
As the price goes up, so does the number and range of inclusive services, from relaxation lounges, complimentary wet areas, and even a complimentary buffet in the post treatment area (although herbal teas or plates of fresh fruit are more common). Often these elements are not promoted; they are included as part of the service that each spa is providing and seen as being the spa owners' way of saying Thank You for using their services.
Thailand has one of the most regulated spa industries in the world, for which industry bodies such as the Thai Spa Association continue to work with the government to ensure that it is keeping with the realities of the market. Spa Operators must be registered with the Ministry of Public Health, with all professional spa operators clearly displaying their official registrations & certifications. Some even have the newest of spa signage - the Silver, Gold or Platinum Spa Grading which was introduced by the Ministry of Public Health in early 2009 to further raise standards. This new grading will take some to filter through to all spa operators.
It is the commitment to standards and the element of Thainess that has helped to define the Thai spa industry. Around the world, you can find copy Thai architecture, Thai spa product and even Thai spa furnishings, yet the heart and soul of Thai Spas – the element of Thainess – an intangible quality that uniquely defines the heritage and culture of Thai people and which cannot be copied, ensuring that Thai spas will remain unique in the world of spa.